Day diving & dive trips with Croatia Divers
With our English & Dutch management and team of multilingual PADI instructors and staff, we can offer you the very best in quality, safety and enjoyment for a diving experience you won't forget. For the coming 2015 season we are open from April until mid October.
We have a Course Director, EFR Instructor trainer, Staff Instructor, Master Scuba Diver Trainer Instructors, PADI Instructors, PADI Assistants and PADI Dive Master and trainees in our fun dive team!
and 30 dive sites more to explore - check out the location, maps & images
Certified Divers
For qualified divers, we offer scuba diving day trips by boat which offer diving to divers with all levels of experience.
With more than 35 Dive sites - see our detailed dive map of our dive sites, including wall dives, wreck dives, drift dives, cave dives, night dives and deep dives, variety is something we can certainly offer.
Some of the best & most famous scuba diving journalists and underwater photographershave described the underwater world in Vela Luka one of the most interesting and complex marine environments in the whole of the Mediterranean, Aegean and Adriatic.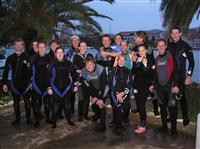 For qualified divers, we offer: Cave Diving, Night Diving, Wreck Diving, Boat Diving, U/W Photograhy, U/W Videography, Reef and Wall Diving
Image: Diveclub from the UK getting ready for the nightdives
The rich and varied marine life in Vela Luka includes octopus, barracuda, moray eels, large grouper, tuna, giant loggerhead turtles (Caretta Caretta), crayfish, langusta, white bream, bluefish, dolphin fish, greater amberjacks, parrotfish and a multitude of other colourful reef fish.
The average crystal clear waters has a visibility ranging from 20-40 meters, these conditions offer ideal opportunities for underwater videography and photography, as well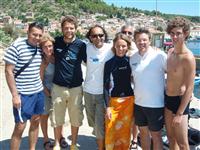 as very pleasant recreational diving!
All of our dives are supervised and lead by dive professionals. Our policy is to have fun while keeping safe. A dive trip with us includes a briefing about the dive site to be visited such as topography, key points of the site, marine life, and general safety rules on the boat, and in the water.
Go to special offers for diving, non-divers & accommodation
Our specialty of the year 2023 PADI Nitrox diver
Price list for boat diving Croatia without accommodation
Single boat dive

€ 45,00

1 day diving (2 boat dives)

€ 69,00

Night dive (by boat)

€ 85,00

3 days diving (6 boat dives)

€ 209,00

5 days diving (10 boat dives) the days can be spread out in your holiday

€ 329,00

6 days diving (12 boat dives)

€ 375,00

All our prices include weightsbelt & lead, air fills, 10 or 12 litre cyilinder and dive guide !!
Rent of 15 litre cyilinder

32% EANx

air fills

in EANx dedicated 12 liter steel cylinder

€ 7,00
Price list for equipment rental
Jacket / BCD

Mares Rover

€ 15,00

Regulator complete with depth and pressure gauge

Mares Rebel

€ 15,00

Dive suit with hood (5mm)

Mares Rover

€ 15,00

Shorty (2mm)

Mares

€ 9,00

Mask & Snorkel

Mares

€ 10,00

Fins (open heel)

Mares plana avanti

€ 10,00

Dive boots

Mares Classic with zipper

€54,00

Torch halogen including full batteries

€ 10,00

Dive computer

Mares Puck, Uwatec, Suunto Solution Alpha, Suunto favor, Aladin pro

€ 15,00

Full equipment rental: Suit, BCD, Regulator complete, Fins, Dive boots, Mask & Snorkel
1 day

€ 39

6 days diving ? - the 6th day equipment rental is for free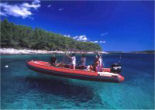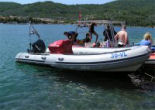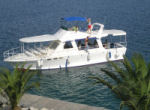 OUR DIVE BOATS
Inflatable Gommorizzo 7.50 m 250 hp Yamaha engine - Thor
Inflatable Gommorizzo 5.70 m 115 hp Yamaha engine - Apollo
Inflatable Sacs 9.70 m with inboard 300 hp turbo diesel engine - Hercules
Motor vessel M/V Anna Maria - 16 meter day-trip dive boat with lunches offered aboard the ship
All our boats are equipped with radio-telephone, GPS, Sonar, first aid and oxygen.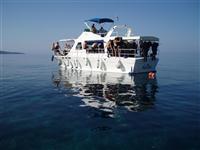 The centre is insured with DAN EUROPE CROATIA.
All our divers are insured for invalidity and fatality with Generali Insuance Zagreb
Medical assistance is readily available in Vela Luka just 300 meters from the dive center.
There is a Hyperbaric chamber in Split (rapid transport by helicopter).
Average air temperatures & average sea temperatures
| | | | | | | | | |
| --- | --- | --- | --- | --- | --- | --- | --- | --- |
| April: | 18.2 C° | April: | Surface | 15.0 C° | 15 m depth | 14.0 C° | 30 m depth | 13.5 C° |
| May | 21.5 C° | May | Surface | 18.6 C° | 15 m depth | 15.5 C° | 30 m depth | 14.0 C° |
| June | 28.5 C° | June | Surface | 21.5 C° | 15 m depth | 16.5 C° | 30 m depth | 15.5 C° |
| July | 34.0 C° | July | Surface | 23.8 C° | 15 m depth | 18.5 C° | 30 m depth | 17.3 C° |
| Aug | 34.0 C° | Aug | Surface | 24.2 C° | 15 m depth | 19.5 C° | 30 m depth | 18.0 C° |
| Sep | 28.0 C° | Sep | Surface | 23.0 C° | 15 m depth | 20.5 C° | 30 m depth | 19.5 C° |
| Oct | 24.0 C° | Oct | Surface | 21.5 C° | 15 m depth | 20.0 C° | 30 m depth | 18.0 C° |
| Nov | 19.0 C° | Nov | Surface | 20.0 C° | 15 m depth | 19.0 C° | 30 m depth | 17.0 C° |
| Dec | 18.0 C° | Dec | Surface | 19.0 C° | 15 m depth | 18.0 C° | 30 m depth | 16.0 C° |