Bienvenue à Croatia Divers - PADI IDC college Croatia
Croatia Divers est un centre de plongée reconnu Centre de Formation d'Instructeurs PADI 5 étoiles et PADI IDC College Croatia situé sur le front de mer de Vela Luka, île de Korkula, sur la superbe côte Dalmate.
Avec notre gestion anglaise et néerlandaise, notre équipe d'instructeurs professionnels et le personnel multilingues, nous pouvons vous offrir le meilleur en termes de qualité, de sécurité et de plaisir pour une expérience de plongée inoubliable. Pour la saison 2020 à venir, nous sommes ouverts 01.07 jusqu'au 30 Septembre.
We are happy to announce that we opened our doors

from

01 July to 30 September
All our divers are insured for free through our dive center with Generali
Update 15 August: as you might know there have been no reported cases of Covid-19 on the island of Korcula.
Please visit this link to government of the republic of Croatia regarding the Corona statistics
You are most welcome to dive and to have fun with us!
Luckily, our diving centre is in the town of Vela Luka, at the west end of the island, which is off the 'beaten track' for the average 'party-goer'. Being such, I expect Vela Luka to be one of the safer places to be during this unfortunate episode.
Hygiene and safety at the diving centre considered a point of utmost importance before the virus, you can rest assured all equipment and surfaces are and will be clean and ready for use. Many more practices, old and new, will be employed to ensure you receive not only the best experience possible, but the safest experience possible.
Being so widely known as the diving centre for families and more to trust for fun, experience, and most of all safety, is not only a privilege, but a responsibility. We intend to continue to prove deserving of the faith our divers put in us, and to supersede it.
Regarding pre-cautions for our divers, course students, dive center and our staff;
Our equipment is disinfected before and after diving by yourself. As such, you can be sure the equipment is cleaned regularly and to a high standard of safety. As always, we will supply the disinfectant and wash facilities.
During your dive holiday, you - and only you - will use the same set of equipment throughout. While you are not using the equipment, it will be stored in a numbered box, again only used by you.
As ever, any and all possible precautions will be taken to maximize diver safety.
The number of students per class will be restricted. Since dive theory is completed online and in advance, classroom sessions are not necessary.
Dive briefings will be conducted on the dive centre grounds, outdoors, as always, in fresh air by the sea. Not only does it allow for greater for social distancing, it's more fun.
Our staff will be in self-quarantine for 14 days prior to their first working day.
All our staff and guests will be checked by us on a daily base with a non-contact infrared thermometer to check if there is no temperature rise.

We decided upon this safety rule so you know that other divers or our staff member are free of a temperature rise.
Hotels and pre-cautions
The hotels are taking a higher approach with regards hygiene and safety in all areas, inside and out.
The staff will adhere to higher standard of hygiene, including food and beverage preparation, and in contact.
Drinks will be served in disposable cups.
Tables will be positioned further from one another - facilitated by the reduction of hotel capacity by up to 30 to 50%.
The hotels offer an all-inclusive service. As such, payments will not require on a repetitive or daily basis - with the exception of those services such as excursions, bike rental, etc.
Your holiday to Vela Luka and the trip from your home country to Croatia
Vela Luka, translated as 'Big Bay', is exactly that: a very wide horse-shoe bay at the west end of the island. It is never as busy or as crowded as the main and bigger towns in Croatia. Vela Luka, once a sleepy fishing village, is picturesque, tranquil, and free.
The beach is big enough for all to find space.
The cafes, bars, and restaurants are plentiful, spacious, and rarely too busy even in the height of summer season.
When walking to town and / or the supermarket, the roads allow for ample social distance,
The dive centre, covering 180 sqm inside and about twice that much outside, allows more than enough room for social distancing.
The apartment owners are taking safety precautions with regards hygiene, and of course you can bring your own anti-bacterial fluid, soap, and / or spray if you prefer.
The journey to Croatia is easy to do by car.
All borders will promote and enforce safety.
Fuel stations will have rules and advice that promote safety. However, we suggest you use gloves when touching surfaces, and using disinfectant and / or thoroughly washing your hands with soap and water before stepping back into the car to continue your trip.
General information
Your holiday is not just about diving but also the social environment, local events, the culture of a country, island live and the city is important when choosing the place where you wish to spend your holiday.

The diversity and richness of the cultural inheritance of Vela Luka can be seen in the exceptional museums and galleries that are located in the Center for Culture.
Visit after diving this extraordinary archaeological site Vela Spila. It's one of the most important prehistoric cave dwellings and the most significant archaeological sites in the entire Europe!
Vela Luka has, besides fantastic diving, a rich history of Klapa singing (in cappella style). One of the best known is the Klapa Ošjak.
There are numerous sea-view restaurants with home-made food and local brewed wines. You will experience the relaxed life style of the island habitats and you'll get spoiled by their welcoming warmth.

Come, dive, explore and have fun with us!
Hvar Divers is open from the 1st of July to 30 October 2020 - please visit us in gorgeous Vrboska - Hvar Island
Notre personnel à temps plein comprend un formateur d'instructeur EFR, PADI Course Director et Staff Instructor, et des instructeurs Master Scuba Diver Trainer, au sein de notre équipe de plongée!
Détendez-vous dans notre de loisir en plein air, que nous avons appelé le ' Deco-Stop', sous les palmiers avec une vue sur la mer, avec des chaises en bois et un hamac, où nos plongeurs, non-plongeurs et éleves peuvent se détendre, lire un magazine de plongée, bavarder ou naviguer sur Internet avec notre connexion Internet sans fil.

Plongeurs certifiés
Pour les plongeurs qualifiés, nous proposons des excursions plongée en bateau à la journée, qui offrent de quoi satisfaire les plongeurs de tous niveaux d'expérience.
Avec plus de 35 sites de plongée, comprenant les tombants, plongées sur épaves, plongées dérivantes, grottes, plongées de nuit et plongées profondes, la variété est quelque chose que nous pouvons assurément offrir.(tels que Gerald Nowak, Rutger Geerling, Wolfgang Pölzer, Franco Banfi, Antonello Paone, Gianni Neto & Massimo Spadotto)
ont décrit le monde sous-marin de Vela Luka comme l'un des milieux marins les plus intéressants et complexes dans l'ensemble de la Méditerranée, de la mer Égée et de l'Adriatique.
Visitez nos pages offres spéciales et notre galerie de photos
Nous proposons de nouvelles spécialités pour la saison 2016 PADI Nitrox diver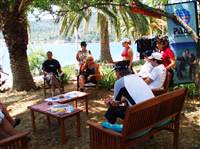 Formations PADI de débutant à professionnel
Nous proposons es cours PADI depuis Open Water Diver pour les débutants, jusqu' à instructeur PADI, Divemaster et Instructeur EFR pour ceux qui souhaitent faire carrière dans la plongée. Nos instructeurs peuvent enseigner les cours dans une variété de langues européennes, dont le Néerlandais, l'Allemand, l'Anglais, le Croate et le Français.
Cliquez ici pour consulter nos coursPADI Open Water Diver
Cliquez ici pour voir nos PADI Advanced courses
Cliquez ici pour voir nos PADI professionnels et notre programme IDC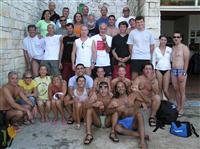 Les formations aux specialtiés PADI
Nous avons des offres spéciales pour tous les niveaux d'expérience ; débutants,  plongeurs qualifiés et plongeurs professionnels PADI
Cliquez ici pour consulter nos cours PADI professionnels et notre programme IDC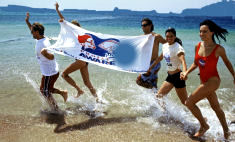 Cours combinés PADI
Nous offrons de belles promotions sur les combinaisons de cours : Par exemple, devenez un PADI Open Water Diver et un plongeur Nitrox, ou pourquoi pas un Master Scuba Diver en complètant 5 spécialités PADI. Vous pourriez envisager le PADI Rescue + EFR, CFC et Emergency O2 provider pour seulement 399€ en 4 jours!
Cliquez ici pour consulter nos promotions sur les cours combinés
Cliquez ici pour voir les possibilités de PADI e-learning pour les cours de votre choixe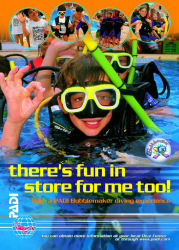 Plongeurs junior PADI de 8 à 15 ans
Bobby et Marjolein ont plus de 22 ans d'expérience dans les programmes de plongée s'adressant aux jeunes, et la sécurité est la règle numéro une! Nos instructeurs PADI sont bien formés et très expérimentés avec les programmes PADI pour les jeunes que nous offrons à vos enfants.
Nous pouvons vous assurer que vos enfants prendront beaucoup de plaisir et auront un moment d'aventure! Les programmes sont possibles lorsque les parents sont en plongée, et en fonction de votre propre programme de plongée et des horaires de cours de votre enfant, vous pourriez être réunis sur le même bateau de plongée!
Cliquez ici pour PADI Plongeurs de junior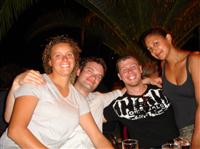 Pour les tout débutants
otre programme (essayer la plongée)est une introduction d'un jour à la plongée sous-marine, au cours de laquelle un instructeur vous emmène sous la mer claire et bleue pour que vous puissiez découvrir la sensation merveilleuse de respirer sous l'eau pour la première fois, et le plaisir incroyable de nager avec les poissons!

Et si vous aimez (nous sommes sûr que ce sera le cas), nous vous proposons alors des cours PADI Open Water pour que vous puissiez être qualifié en tant que plongeur Open Water et commencer ainsi votre voyage d'exploration.
Services photographique et vente au détail
CD-rom de photos pour les plongeurs qualifiés, débutants et éleves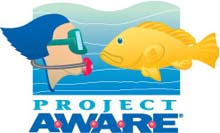 PLa Fondation Project AWARE est un organisme à but non lucratif qui rassemble les efforts visant à conserver les ressources aquatiques et les milieux sous-marins à travers l'éducation, de plaidoyer et l'action. A Croatia Divers, nous organisons chaque mois une journée de nettoyage sous-marin: nous avons besoin de votre aide et votre participation ... Comment? ?
Bientôt, vous pourrez visiter notre page Project AWARE pour plus d'information sur l'histoire, la mission, les objectifs de Project AWARE, et comment vous pouvez aider à préserver le monde aquatique.