Willkommen in Kroatien Divers - PADI IDC College Kroatien
Croatia Divers ist ein anerkannter PADI 5 * Gold Palm Instructor Development Dive Resort und PADI Tauchschule am Strand von Vela Luka auf der Insel Korcula, an der wunderschönen kroatischen dalmatinischen Küste.
Croatia Divers is open from 15 May until 30 September 2018
Hvar Divers is open from 15 April until 15 October 2018 - please visit us in gorgeous Vrboska - Hvar Island.
Besuchen Sie unsere speziellen Angebote für Tauchgänge mit private Unterkunft
Croatia Divers bietet mit seinem Fachpersonal beste Qualität und Sicherheit für ein Taucherlebnis, das Sie nicht vergessen werden. Unser English & Dutch Management und ein Team von professionellen Tauchlehrern steht dafür ein. Deutschsprachiges Personal betreut unsere Gäste aus Deutschland, Österreich und der Schweiz in ihrer Muttersorache.
Wir haben eine ganze Zeit Course Director, EFR Instructor Trainer, Staff Instructor, Master Scuba Diver Trainer Instructors, PADI Instructors, PADI Dive Master und PADI Assistenten und Praktikanten in unserem Spaß Tauchteam.
Unser Tauchcenter hat auch einen schönen Garten "der Deco-Stop" genannt, mit Palmen,Meerblick, mit Sesseln und einer Hängematte.

Zertifizierte Taucher
Unsere Tauchgänge und Tagesausflüge mit dem Boot sind gleichermaßen interessant für Anfänger wie für erfahrene Sporttaucher oder Tauchclubs.
Sie können aus 35 Tauchplätzen wählen - siehe die detaillierte Karte siehe unten, Seite.

Besuchen Sie unsere speziellen Angebote für Tauchgänge mit Unterkunft und Halbpension
PADI Spezialität aus dem Jahr 2018 Nitrox Taucher PADI Nitrox Taucher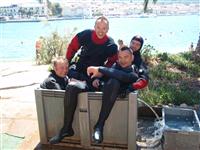 PADI Courses in Croatia from beginner to Professional
We offer PADI courses from PADI Open Water Diver for beginners, all the way through to PADI Instructor, Dive master courses & EFR Instructor for those looking to make a career in diving. Our instructors can teach courses in a variety of European languages, including Dutch, German, English, Croatian and French
Click here to view our PADI Open Water Diver courses
Click here to view our PADI Advanced courses and specialties
Click here to visit our PADI Professional courses and our IDC program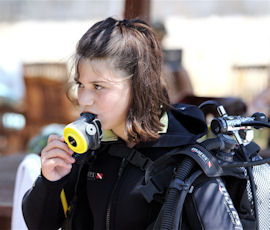 PADI Children programs from 8 to 15 years
Bobby & Marjolein have more than 22 years of experience in youth diving programs and safety is rule number one!
Programs are possible when the parents are diving and depending on your dive packages and your kid's course schedule you could be planned on the same dive boat !
Click here for PADI children diving programs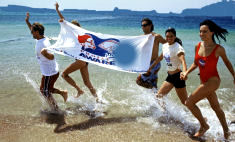 PADI Course offers
We offer great specials on combination courses
Click here for our combination specials
Registrieren Sie sich für den PADI virtuellen Klassenraum
E-Learning ist verfügbar für: PADI Open Water Diver Kurs (Englisch, Spanisch, Deutsch, Japanisch, Französisch, Italienisch, Niederländisch), dem PADI Advanced Open Water Diver Kurs
und der PADI Enriched Air Diver Kurs